Moderna Up on $1.5B Federal Funding for Coronavirus Vaccine
Shares of Moderna, Inc. MRNA were up 11.6% in pre-market trading on Wednesday after the company received an award of up to $1.53 billion from the U.S. government for supplying 100 million doses of its mRNA-based coronavirus vaccine candidate, mRNA-1273. The funding is for the manufacturing and delivery of initial 100 million doses of mRNA-1273 including incentive payments for timely delivery of the product.
The agreement is part of the U.S. government's Operation Warp Speed (OWS), which aims to secure early access to safe and effective COVID-19 vaccines for its people. Per the agreement, the country's government also has an option to purchase up to an additional 400 million doses of mRNA-1273 from Moderna.
Notably, the government in recent times made similar deals with companies like Sanofi SNY and Glaxo GSK to acquire hundreds of millions of doses of potential COVID-19 vaccines as part of its OWS program. AstraZeneca AZN and the University of Oxford's COVID-19 vaccine candidate is also funded and supported by OWS. Last week, J&J announced an agreement with the U.S. government to supply 100 million doses of its investigational COVID-19 vaccine candidate Ad26.COV2.S following approval or an emergency use authorization by the FDA.
Earlier, Moderna had received a federal funding of up to $955 million from the Biomedical Advanced Research and Development Authority (BARDA) for mRNA-1273. With this latest development, the company now has at least $2.48 billion of funding from the U.S. government.
Apart from BARDA, Moderna's coronavirus development progress attracted partnerships from other national governments as well as global organizations namely, Coalition for Epidemic Preparedness Innovations (CEPI) and the U.S. National Institute of Allergy and Infectious Diseases (NIAID). These alliances provided grants to support the different stages of development of mRNA-1273.
Shares of Moderna have skyrocketed 252.6% so far this year compared with the industry's increase of 4.5%.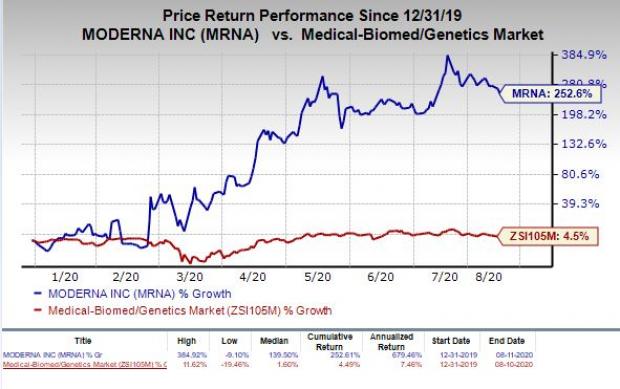 We remind investors that in July, Moderna initiated a phase III study on mRNA-1273 for COVID-19. The analysis is evaluating 100 micrograms dose of mRNA-1273 administered on a two-dose vaccination schedule, given 28 days apart for safety and reactogenicity. Enrollment is expected to be completed in September.
Additionally, in July, Moderna reported positive updated interim data from a phase I study on mRNA-1273. The results demonstrated that participants vaccinated twice with mRNA-1273 led to rapid and strong immune responses against SARS-CoV-2 through day 57 across all three dose cohorts.
The data also showed that all participants were seroconverted (producing antibody against SARS-CoV-2 Spike protein) by day 15. The safety profile of the vaccine looked promising as no adverse events were reported through day 57 while unfavorable events were generally transient and mild to moderate in severity.
However, we note that the presence of several large companies in the coronavirus vaccine field is likely to stiffen competitionfor Moderna even if it is able to successfully develop a vaccine against COVID-19.
Zacks Rank
Moderna currently carries a Zacks Rank #3 (Hold). You can see the complete list of today's Zacks #1 Rank (Strong Buy) stocks here.
Zacks Top 10 Stocks for 2020
In addition to the stocks discussed above, would you like to know about our 10 finest buy-and-hold tickers for the entirety of 2020?

Last year's 2019 Zacks Top 10 Stocks portfolio returned gains as high as +102.7%. Now a brand-new portfolio has been handpicked from over 4,000 companies covered by the Zacks Rank. Don't miss your chance to get in on these long-term buys.
Access Zacks Top 10 Stocks for 2020 today >>
Want the latest recommendations from Zacks Investment Research? Today, you can download 7 Best Stocks for the Next 30 Days.
Click to get this free report
Sanofi (SNY): Free Stock Analysis Report
AstraZeneca PLC (AZN): Free Stock Analysis Report
Moderna, Inc. (MRNA): Free Stock Analysis Report
GlaxoSmithKline plc (GSK): Free Stock Analysis Report
To read this article on Zacks.com click here.
Zacks Investment Research