ARRIS Offers Wi-Fi 6 Mesh System for Better Home Connectivity
ARRIS International plc ARRS recently unveiled its SURFboard mAX Pro Mesh Wi-Fi System to enable consumers to better experience Gigabit Wi-Fi in every connected device throughout their homes. Notably, the system entails Gigabit service along with strong coverage by combining networking technologies such as Tri-band, Wi-Fi 6, 4x4 and Mesh to provide seamless connectivity. The SURFboard mAX Pro Mesh Wi-Fi System and SURFboard mAX Pro Mesh Wi-Fi Router are expected to be available in the first half of 2019.

With this state-of-the art product, ARRIS aims to meet the growing demand for Gigabit and multi-Gigabit connectivity as consumers now seek high-speed Internet for all rooms in the house. Due to increase in number of connected devices, there has been a surge in network traffic and greater demand for reliable and high-capacity Wi-Fi. The company intends to capitalize on these growth opportunities by helping to transform the way people stay connected in today's world. The early availability of Wi-Fi 6 and mesh systems also offer a competitive edge to ARRIS in its continued efforts to reach a high-end market segment.

Existing Business Scenario

ARRIS is transforming the entertainment experience through a holistic approach to content delivery, leveraging its expertise in the cloud, network and home, to help service providers anticipate demand for more personalized, relevant and mobile experiences. The company's optical portfolio enables providers to improve their networks by bringing fiber closer to subscribers for increased network speeds. Such innovative product offerings will help the company to enhance its top line while expanding customer base.

Consumer demand for faster Internet speeds with more capacity continues to grow at an escalating rate, mainly driven by increasing consumption of video. ARRIS provides the technology to enable its business customers to manage this exponential bandwidth growth cost effectively through steady R&D investments. The company ensures that its products are at the forefront in enabling service providers to deliver the highest amount of bandwidth to their subscribers across any physical connection.

Through enterprise distribution channels, the company provides wireless and wired products and services for seamless connectivity across varied networking environments to customers across a spectrum of verticals. The core solutions are complemented by a broad array of services, including technical support, and system design and integration.

Courtesy of proper execution of operational plans, the company's shares have gained 16.3% against the decline of 13.4% for the industry in the past year.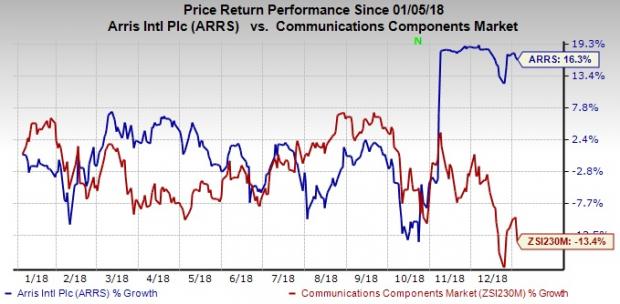 ARRIS currently carries a Zacks Rank #2 (Buy). Other top-ranked stocks in the industry include Acacia Communications, Inc. ACIA, Spirent Communications plc SPMYY and Vocera Communications, Inc. VCRA, each carrying a Zacks Rank #2. You can see the complete list of today's Zacks #1 Rank (Strong Buy) stocks here.

Acacia has a long-term earnings growth expectation of 12.4%.

Spirent has a long-term earnings growth expectation of 11%.

Vocera has a long-term earnings growth expectation of 18.7%.

The Hottest Tech Mega-Trend of All

Last year, it generated $8 billion in global revenues. By 2020, it's predicted to blast through the roof to $47 billion. Famed investor Mark Cuban says it will produce "the world's first trillionaires," but that should still leave plenty of money for regular investors who make the right trades early.

See Zacks' 3 Best Stocks to Play This Trend >>
Want the latest recommendations from Zacks Investment Research? Today, you can download 7 Best Stocks for the Next 30 Days.
Click to get this free report
ARRIS International plc (ARRS): Free Stock Analysis Report
Spirent Communications PLC (SPMYY): Free Stock Analysis Report
Acacia Communications, Inc. (ACIA): Free Stock Analysis Report
Vocera Communications, Inc. (VCRA): Free Stock Analysis Report
To read this article on Zacks.com click here.
Zacks Investment Research