Immunomedics to be Acquired by Gilead for About 21 Billion
Immunomedics Inc. IMMU announced that it has entered into an acquisition agreement with Gilead Sciences Inc. GILD whereby the latter will acquire the former for about $21 billion. Immunomedics shareholders will receive $88 per share in cash from Gilead Sciences when the deal closesThe $88 per share acquisition price represents a 108% premium to Immunomedics' closing price on Sep 11, 2020. The deal is expected to close during the fourth quarter of 2020.
Shares of Immunomedics have surged 99.6% year to date against the industry's decline of 3%.

With the buyout, Immunomedics' lead drug,Trodelvy, will be added to Gilead's portfolio, which will help expand the latter's oncology portfolio. Trodelvy is a first-in-class Trop-2 directed antibody-drug conjugate (ADC) for the treatment of adult patients with metastatic triple-negative breast cancer (mTNBC) who have received at least two prior therapies for metastatic disease. This indication is approved under accelerated approval based on tumor response rate and duration of response.Immunomedics plans to submit a supplemental Biologics License Application (sBLA) to support the full approval of Trodelvy in the United States in the fourth quarter of 2020. Immunomedics is also on track to file for regulatory approval in Europe in the first half of 2021.
Trodelvy has shown promise for earlier stages of TNBC. TNBC represents about 15-% to 20% of all breast cancer cases. Trodelvy has significant commercial potential in mTNBC and other solid tumors.In the second quarter of 2020, the drug generated $20.1 million, which showed that its penetration in the market was encouraging only in two months of its launch. Immunomedics is also conducting various other studies for the label expansion of Trodelvy. It is also being studied in an ongoing phase III study in third-line HR+/HER2- breast cancer and a registrational phase II study in bladder cancer. The company is also conducting studies on the potential of Trodelvy as a treatment for non-small cell lung cancer and other solid tumor types. Trodelvy is being studied as both a monotherapy and in combination with checkpoint inhibitors and other non-immuno-oncology products by Immunomedics and independent investigators.
With this deal, Immunomedics as it will get a strong partner in Gilead which will enable it to successfully commercialize Trodelvy.
Immunomedics, Inc. Price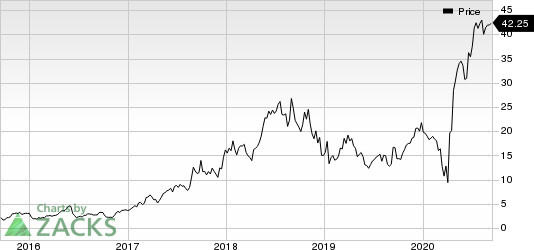 Zacks Rank & Stocks to Consider
Immunomedics currently carries a Zacks Rank #3 (Hold).
Some better-ranked stocks in the healthcare sector include Emergent Biosolutions Inc. EBS and Bio Techne Corp TECH. While Emergent sports a Zacks Rank #1 (Strong Buy), Bio Techne carries a Zacks Rank #2 (Buy). You can see the complete list of today's Zacks #1 Rank stocks here.
Emergent's earnings estimates have increased from $4.03 to $6.07 for 2020 and from $5.07 to $6.17 for 2021 over the past 60 days. Shares of the company have increased 99.6% year to date.
Bio Techne's earnings estimates have increased from $5.33 to $5.48 for 2020 and from $6.41 to $6.50 for 2021 over the past 60 days. Shares of the company have increased 11% year to date.
Breakout Biotech Stocks with Triple-Digit Profit Potential
The biotech sector is projected to surge beyond $775 billion by 2024 as scientists develop treatments for thousands of diseases. They're also finding ways to edit the human genome to literally erase our vulnerability to these diseases. Zacks has just released Century of Biology: 7 Biotech Stocks to Buy Right Now to help investors profit from 7 stocks poised for outperformance. Our recent biotech recommendations have produced gains of +50%, +83% and +164% in as little as 2 months. The stocks in this report could perform even better.
See these 7 breakthrough stocks now>>
Want the latest recommendations from Zacks Investment Research? Today, you can download 7 Best Stocks for the Next 30 Days.
Click to get this free report
Gilead Sciences, Inc. (GILD): Free Stock Analysis Report
Immunomedics, Inc. (IMMU): Free Stock Analysis Report
Emergent Biosolutions Inc. (EBS): Free Stock Analysis Report
BioTechne Corp (TECH): Free Stock Analysis Report
To read this article on Zacks.com click here.
Zacks Investment Research