Can Nu Skin's Sales Leaders & Customers Revive Lost Sheen?
Nu Skin Enterprises, Inc. NUS lacks investors' confidence, evident from the stock's 9.7% decline in the past three months compared with the industry's 3.4% fall. Dismal gross margins and adverse currency impacts are tarnishing the company's image.
Nevertheless, this well-known beauty and wellness company is consistently gaining from an expanding base of customers and sales leaders. Let's take a look at these factors and see if the upsides can revive the stock.

Sales Leaders & Customers Propel Business Growth

Nu Skin sells and distributes products through a network of sales leaders and customers, spread across 50 global markets. Notably, the company's top line is consistently benefitting from growth in sales leaders. In fact, during the third quarter of 2018, sales leaders improved approximately 14%. This was preceded by a rise of 21% and 16% in the second and the first quarters of 2018, respectively as well as an improvement of 33% during the fourth quarter of 2017.
Going forward, the company is focused on plans to empower sales leaders through improved training and technological enhancements. In this regard, Nu Skin is working toward expanding sales compensation program, Velocity, in different nations. Management expects Velocity to be a significant driver in expanding the business in the future.

Moving on, Nu Skin also takes much pride in its expanding customer base, which boosts growth in sales leaders as well. Incidentally, the company's customers grew approximately 9% during the third quarter. This followed a respective rise of 8% and 7% in the second and the first quarter of 2018 and a respective 8%, 7%, 5% and 2% during the fourth, the third, the second and the first quarters of 2017. The company primarily relies on social media as well as well-knit product and marketing programs to widen customer reach.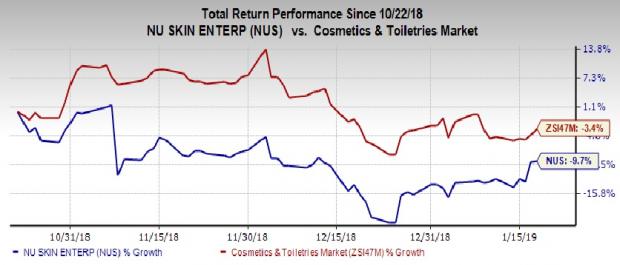 Can Efforts Help Tide Over Challenges?

Nu Skin's gross margin has been declining year over year for the past few quarters. Gross margin slid approximately 190 basis points (bps) during third-quarter 2018. Also, gross margin plunged approximately 180 bps and 140 bps during the second and the first quarters of 2018, respectively. Prior to this, gross margin witnessed declines of 190 bps, 60 bps and 80 bps during the fourth, the third and the second quarters of 2017, respectively. Persistent declines in gross margin levels pose considerable threats to the company's overall profitability.

Unfavorable impacts from currency rates are also a roadblock for the company. We note that a major share of Nu Skin's revenues is sourced from international markets, thereby exposing the company to significant currency risks. In fact, the bottom line in the third quarter was hurt by foreign currency translation losses of almost 7 cents per share.
Moreover, the top line in the said period was hurt by a 3% negative impact from foreign currency changes. Sadly, management expects currency translations to drag earnings in 2018 by approximately 20 cents.

Nevertheless, we expect this Zacks Rank #3 (Hold) company to overcome the aforementioned hurdles with ease, backed by the underlying strength in sales leaders and customers. In fact, supported by such upsides and robust operational strategies, Nu Skin's top and bottom line have been improving year on year for the past four quarters. We expect these aspects to keep fueling the company and revive the stock's lost sheen in the forthcoming periods.

Do Consumer Staples Stocks Entice You? Check These

Church & Dwight Co., Inc CHD, with long-term earnings per share (EPS) growth rate of 10.2%, carries a Zacks Rank #2 (Buy). You can see the complete list of today's Zacks #1 Rank (Strong Buy) stocks here..

McCormick & Company MKC has long-term EPS growth rate of 9% and a Zacks Rank #2.

Lamb Weston LW, with a Zacks Rank #2, has long-term EPS growth rate of 12%.

Zacks' Top 10 Stocks for 2019

In addition to the stocks discussed above, would you like to know about our 10 finest buy-and-holds for the year?

Who wouldn't? Our annual Top 10s have beaten the market with amazing regularity. In 2018, while the market dropped -5.2%, the portfolio scored well into double-digits overall with individual stocks rising as high as +61.5%. And from 2012-2017, while the market boomed +126.3, Zacks' Top 10s reached an even more sensational +181.9%.

See Latest Stocks Today >>
Want the latest recommendations from Zacks Investment Research? Today, you can download 7 Best Stocks for the Next 30 Days.
Click to get this free report
Nu Skin Enterprises, Inc. (NUS): Free Stock Analysis Report
Lamb Weston Holdings Inc. (LW): Get Free Report
McCormick & Company, Incorporated (MKC): Get Free Report
Church & Dwight Co., Inc. (CHD): Get Free Report
To read this article on Zacks.com click here.
Zacks Investment Research