Bear of the Day: FedEx (FDX)
In an announcement that shook the market in September, FedEx FDX withdrew its FY23 earnings forecast due to a volatile operating environment.
It was a major shock, as the original guidance was given just a few months back in June, the same month that long-time CEO Fred Smith vacated his post.
Following a multi-year uphill battle with the integration of its TNT Express acquisition, the news further pushed sentiment down.
Analysts have taken note of the new guidance, slashing their bottom-line outlook across all timeframes with a 100% revision agreement and pushing the stock into a Zacks Rank #5 (Strong Sell).


Image Source: Zacks Investment Research
Let's take a quick look under the hood.
Share Performance
Year-to-date, FDX shares have undergone adverse price action, down nearly 40% and widely underperforming the general market.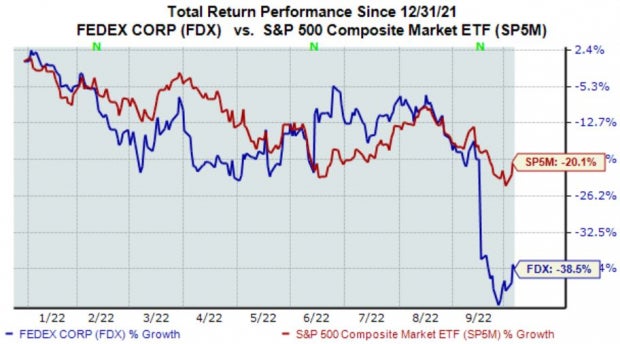 Image Source: Zacks Investment Research
Upon viewing a longer five-year timeframe, the share performance paints a similar story; down nearly 24%, FDX shares have widely lagged behind the S&P 500's 66% gain over the last five years.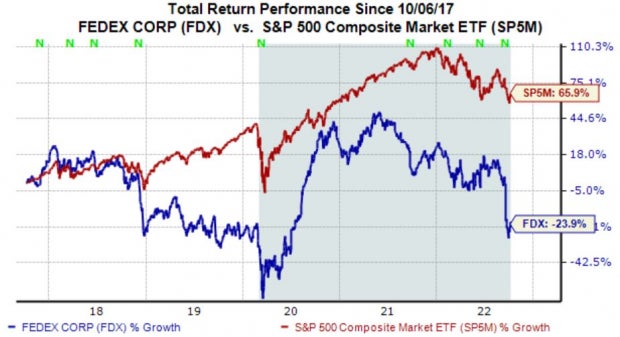 Image Source: Zacks Investment Research
As briefly mentioned earlier, a so-far unfavorable acquisition of TNT Express in 2016 has weighed heavily on the stock, with the acquisition ending up costing millions more than previously expected.
Quarterly Results
FDX has struggled to exceed bottom line estimates as of late, falling short of the Zacks Consensus EPS Estimate in five of its last six quarterly reports. Just in its latest print, FDX missed on the bottom line by nearly 7%.
While bottom line results have left much to be desired, the company's top line appears to be in much better shape – FDX has penciled in nine revenue beats over its last ten quarters.
Below is a chart illustrating the company's revenue on a quarterly basis.


Image Source: Zacks Investment Research
Growth Estimates
FedEx's earnings are forecasted to take a sizable hit in its current fiscal year (FY23), with the Zacks Consensus EPS Estimate of $15.20 reflecting a steep 26% Y/Y decrease.
Still, things look to kick back into the green for FY24, with estimates calling for 25% Y/Y earnings growth.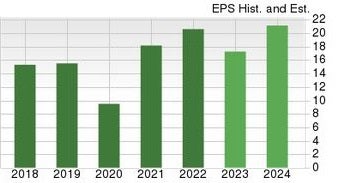 Image Source: Zacks Investment Research
Focusing more on the near-term, the Zacks Consensus EPS Estimate of $3.12 for its upcoming earnings report suggests a 35% drop off in quarterly earnings from year-ago quarterly EPS of $4.83.
Bottom Line
Disheartening bottom line results and recently slashed guidance paint a grim picture for the company in the short term.
FedEx FDX is a Zacks Rank #5 (Strong Sell), telling us it has a weak near-term earnings outlook.
Instead, investors should pivot to stocks that either carry a Zacks Rank #1 (Strong Buy) or Zacks Rank #2 (Buy) – these stocks have a much stronger earnings outlook and potential to deliver explosive gains in the short-term.
Zacks Names "Single Best Pick to Double"
From thousands of stocks, 5 Zacks experts each have chosen their favorite to skyrocket +100% or more in months to come. From those 5, Director of Research Sheraz Mian hand-picks one to have the most explosive upside of all.
It's a little-known chemical company that's up 65% over last year, yet still dirt cheap. With unrelenting demand, soaring 2022 earnings estimates, and $1.5 billion for repurchasing shares, retail investors could jump in at any time.
This company could rival or surpass other recent Zacks' Stocks Set to Double like Boston Beer Company which shot up +143.0% in little more than 9 months and NVIDIA which boomed +175.9% in one year.
Free: See Our Top Stock And 4 Runners Up
Want the latest recommendations from Zacks Investment Research? Today, you can download 7 Best Stocks for the Next 30 Days.
Click to get this free report
FedEx Corporation (FDX): Free Stock Analysis Report
To read this article on Zacks.com click here.
Zacks Investment Research