Delta Variant-Led Drop in Travel Throws US Airlines Off Course
Amid rising coronavirus cases in the United States, induced by the highly contagious Delta variant, U.S. airlines have been experiencing softness in bookings and a rise in trip cancellations over the past few weeks. Consequently, several airlines have lowered their expectations for the third quarter of 2021. Alaska Air Group ALK became the latest carrier to reduce its forecast for the current quarter after it experienced weakness in bookings due to a spike in coronavirus cases. The carrier now anticipates cash flow from operations in the range of 0-$50 million in the third quarter, compared with 0-$100 million expected previously. Revenue passengers are expected to decrease 21-23% from the 2019 level, compared with a 15-18% decrease anticipated previously. Total revenues are forecast to drop 19-21% from the comparable period in 2019 (earlier expectation: down 17-20%).

Last month, American Airlines AAL gave a heads up that its August revenues were falling short of expectations due to softness in bookings. Spirit Airlines SAVE estimates an impact of $80-$100 million on its revenues in the third quarter due to an uptick in cancellations and softer-than-expected booking trends caused by a spike in COVID-19 cases.

Southwest Airlines LUV slashed its third-quarter operating revenue guidance by three to four points from the previous guidance after it "experienced a deceleration in close-in bookings and an increase in close-in trip cancellations" in August. It estimates operating revenues to decline 15-20% in the third quarter from the comparable period in 2019. The carrier also expressed doubts about being able to achieve profits in the third quarter as it had previously expected.

Each of the stocks mentioned above carries a Zacks Rank #3 (Hold). You can see the complete list of today's Zacks #1 (Strong Buy) Rank stocks here.
Fresh Travel Restrictions Imposed by the European Union
Amid the surging coronavirus cases, last week, the European Union imposed fresh restrictions on non-essential travel to and from the United States, dealing a blow to the U.S. airlines. It was only in June that the EU had lifted travel bans on American visitors ahead of the busy summer holiday season. With the new travel advisory being non-binding, individual member countries can choose whether to require negative COVID-19 tests or quarantines or to allow U.S. visitors with proof of vaccination.
Delta Variant Weighs on Air-Travel Recovery
After a tumultuous 2020, U.S. airlines had begun recovering in 2021 with the rollout of coronavirus vaccines and the gradual easing of travel restrictions as Americans got inoculated. While air-travel demand had been steadily improving until this summer, the trend decelerated toward the end of July as the Delta variant caused a spike in coronavirus cases, forcing Americans to cancel travel plans. Amid the prevalent pandemic, airline companies expect a "choppy recovery." The Delta variant-led softness in passenger numbers is likely to worsen the already sluggish recovery in business travel demand. Feeling the heat of the Delta variant, American Airlines expects business travel recovery to be slower than what it had previously experienced.

Mainly due to the above-mentioned Delta variant-induced headwinds, airline stocks have had a disappointing run on the bourse lately. The Zacks Airline industry has declined 0.4% in the quarter-to-date period against the S&P 500's 22% increase over the same time frame.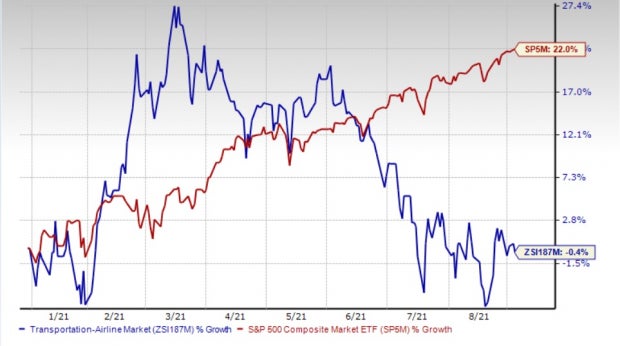 Image Source: Zacks Investment Research
Zacks' Top Picks to Cash in on Artificial Intelligence
In 2021, this world-changing technology is projected to generate $327.5 billion in revenue. Now Shark Tank star and billionaire investor Mark Cuban says AI will create "the world's first trillionaires." Zacks' urgent special report reveals 3 AI picks investors need to know about today.
See 3 Artificial Intelligence Stocks With Extreme Upside Potential>>
Want the latest recommendations from Zacks Investment Research? Today, you can download 7 Best Stocks for the Next 30 Days.
Click to get this free report
Southwest Airlines Co. (LUV): Free Stock Analysis Report
American Airlines Group Inc. (AAL): Free Stock Analysis Report
Alaska Air Group, Inc. (ALK): Free Stock Analysis Report
Spirit Airlines, Inc. (SAVE): Free Stock Analysis Report
To read this article on Zacks.com click here.
Zacks Investment Research