At Home's Stock Jumps on Upbeat Q4 & FY20 Earnings Guidance
At Home Group Inc.'s HOME shares rallied more than 11% on Jan 13, 2020 after the company raised its fourth-quarter and fiscal 2020 guidance.

For the fiscal fourth quarter, the company now projects net sales toward the high end of its previously guided range of $385-$393 million. Notably, this implies an improvement from the year-ago reported figure of $354.1 million.

Comps are expected to be at the higher end of its guided range of negative 6-4%. In the year-ago quarter, comps growth was recorded at 2.1%. This decline in comps can be attributed to the mix of stores opened in the prior year.

At Home currently expects adjusted earnings in the band of 33-36 cents per share for the fiscal fourth quarter. Previously, the company's adjusted earnings were expected within 31-36 cents per share. This suggests a decrease from the year-ago figure of 47 cents per share.

For fiscal 2020, it expects both net sales and comps toward the high end of its previously provided target. Net sales are expected within $1,352-$1,360 million and comps are projected to decline 2-2.6%. In the prior-year period, net sales totaled $1,165.9 million and comps growth was recorded at 2.7%.

Also, it now expects adjusted earnings within 53-56 cents per share for the full year compared with prior guidance of 51-56 cents. This suggests a significant decrease from the year-ago figure of $1.30 per share.

Solid Expansion Strategy Bodes Well

At Home mainly focuses on expanding opportunities in both existing and new markets in the United States. The company believes in relocating business to achieve improved results. Its portable concept has delivered consistent store economics across the markets served, from smaller and less dense locations to larger and metropolitan areas.

Also, the company intends to serve something new and exciting every time customers visit its stores. It keeps on reinventing its assortments every year. This drives top-line performance and gives the company a competitive edge over its peers.

At Home — which shares space in the industry with RH RH, Williams-Sonoma, Inc. WSM and Ethan Allen Interiors Inc. ETH — tries to enhance customer experience through innovative marketing techniques. In order to drive brand awareness and increase customer engagement, the company shifted advertising spend toward social media campaigns and cross-brand initiatives.

Higher Costs & Expenses, Intense Competition Ail

Although its expansion spree is commendable, higher marketing and advertising expenses along with increased costs associated with store expansion dent the bottom line. In the first nine months of fiscal 2020, gross and adjusted operating margin declined 480 basis points (bps) and 410 bps, respectively. Also, adjusted earnings fell more than 72% from the year-ago figure. The downside was mainly due to incremental markdowns, increased occupancy costs, higher preopening expenses associated with the second distribution center and greater advertising expenses. Also, higher freight rates, deleveraging of some fixed costs and tariffs added to the woes.

Along with these incremental costs and expenses, the lingering trade conflict between the United States and China, and highly competitive market are hurting its operating results and business.

Our Take

At Home's shares fell 70.7% over a year against its industry's 24.6% growth. The headwinds hurting At Home's business and operating results are expected to prevail in the remainder of fiscal 2020.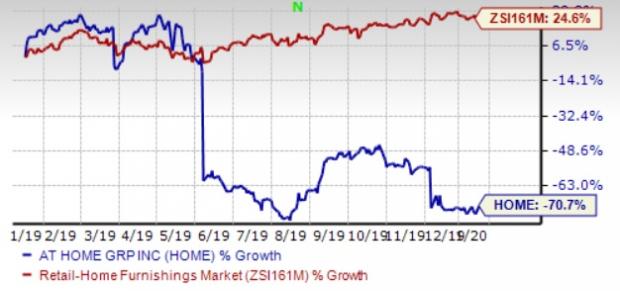 Nonetheless, upbeat fourth-quarter and fiscal 2020 guidance is raising hope for this Zacks Rank #4 (Sell) company. The company has been performing pretty well in recent times and believes to see improved performance, healthy inventory position and strong annual free cash flow going forward.

You can see the complete list of today's Zacks #1 Rank (Strong Buy) stocks here.

Breakout Biotech Stocks with Triple-Digit Profit Potential

The biotech sector is projected to surge beyond $775 billion by 2024 as scientists develop treatments for thousands of diseases. They're also finding ways to edit the human genome to literally erase our vulnerability to these diseases.

Zacks has just released Century of Biology: 7 Biotech Stocks to Buy Right Now to help investors profit from 7 stocks poised for outperformance. Our recent biotech recommendations have produced gains of +50%, +83% and +164% in as little as 2 months. The stocks in this report could perform even better.

See these 7 breakthrough stocks now>>
Want the latest recommendations from Zacks Investment Research? Today, you can download 7 Best Stocks for the Next 30 Days.
Click to get this free report
At Home Group Inc. (HOME): Free Stock Analysis Report
Ethan Allen Interiors Inc. (ETH): Free Stock Analysis Report
RH (RH): Free Stock Analysis Report
Williams-Sonoma, Inc. (WSM): Free Stock Analysis Report
To read this article on Zacks.com click here.