Starbucks (SBUX) and GrubHub (GRUB) Surge This Month: Which is the Better Buy?
Millennial stocks have been on the rise this past month, with trendy names such as GrubHub GRUB, Starbucks SBUX, Snap SNAP, and Canada Goose GOOS up 10% or more.
This recent trend has some analysts betting big on some of these stocks. Mark Tepper, president of Strategic Wealth Partners, is going with GrubHub to be the stock that uses this recent surge to breakthrough and grow substantially this year. Tepper believes consumer behavior is changing and changing quickly. He owes this change to millennials becoming a larger part of the economy and believes it's time to pay attention to millennial spending habits. Nearly two-thirds of people aged 18-29, and half of those aged 30-44, have used a food delivery service over a three-month period, according to marketing and public relations firm Zion & Zion. The people who were surveyed reported using GrubHub as the service they used most often.
Todd Gordon, founder of TradingAnalysis.com, is picking an alternative contemporary stock. Gordon stated, "Starbucks is actually the largest holding in my portfolio," going on to comment on the strong run Starbucks has had this year. Starbucks shares have surged more than 30% in 2019, which has been the company's best run since 2015. The coffee giant also hit a record high last Thursday, which has been its 38th all-time high of the year.
Starbucks and GrubHub have been able to post solid gains and look to use the momentum to carry on their recent growth throughout the fiscal year. With both stocks experiencing strong growth and investors raving about their potential to sustain the expansion, which stock is the better buy? Let's take a more in-depth look into how the stocks match up.
Starbucks
Starbucks is currently sitting at a Zacks Rank #2 (Buy) with a Style Score of B in Growth. Our Zacks Consensus Estimates are currently calling for 17.74% earnings growth with a 5.82% sales growth for the current quarter. Starbucks is projected to see double digit earnings growth through the fiscal year of 2020. The company has seen a year-to-date price increase of 11.48% relative to the S&P 500. On the other hand, the beverage giant has experienced an EPS growth decline of 20% compared to the previous quarter.
GrubHub
GrubHub is listed at a Zacks Rank #3 (Hold). Our Zacks Consensus Estimates are calling for a revenue increase of 32.58% for the current quarter, and we are projecting to keep on seeing double digit sales increases through the next fiscal year. On the earnings side of estimates, we are currently expecting to see a decline through the current year but are projecting to see 50% earnings increase for the upcoming year. GrubHub has a Zacks expected surprise prediction of 5.5%. When a stock with a Zacks Rank of 3 or better is accompanied by positive ESP the stock produced a positive surprise 70% of the time. Furthermore, the delivery service company also has an expected long-term earnings growth (3-5 years) of 23.16%.
Bottom Line
While both stocks have their individual upsides, Starbucks seems to show stronger short-term growth potential. Starbucks shows strong earnings estimates for the current fiscal quarter which could provide positive returns for potential investors faster than GrubHub can. On the other hand, GrubHub did come out with a larger earnings surprise in the previous quarter with a 20% surprise. GrubHub can potentially use this momentum along with the growing purchasing power of millennials to expand their business. For the time being, Starbucks seems like the stock with the sound growth potential at a valuation that can attract potential investors looking to ride the millennial wave. Starbucks has also been able to outperform its industry year-to-date, a feat that GrubHub was not able to accomplish.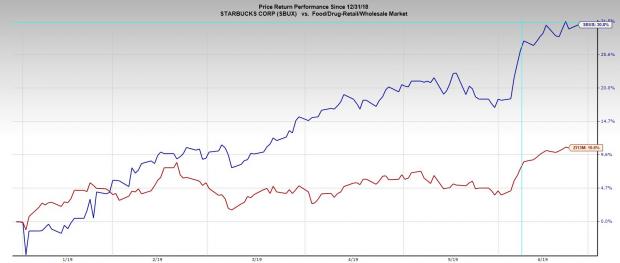 More Stock News: This Is Bigger than the iPhone!

It could become the mother of all technological revolutions. Apple sold a mere 1 billion iPhones in 10 years but a new breakthrough is expected to generate more than 27 billion devices in just 3 years, creating a $1.7 trillion market.

Zacks has just released a Special Report that spotlights this fast-emerging phenomenon and 6 tickers for taking advantage of it. If you don't buy now, you may kick yourself in 2020.

Click here for the 6 trades >>


Want the latest recommendations from Zacks Investment Research? Today, you can download 7 Best Stocks for the Next 30 Days.
Click to get this free report
Snap Inc. (SNAP): Free Stock Analysis Report
Grubhub Inc. (GRUB): Free Stock Analysis Report
Canada Goose Holdings Inc. (GOOS): Free Stock Analysis Report
Starbucks Corporation (SBUX): Free Stock Analysis Report
To read this article on Zacks.com click here.
Zacks Investment Research