Jacobs (JEC) Secures 12-Month Work Extension at Hanford Site
Jacobs Engineering Group Inc. JEC has received a 12-month contract extension from the Department of Energy ("DOE") for the Plateau Remediation contract. Notably, the contract is managed by Jacobs-owned CH2M Hill Plateau Remediation Company. The contract — which will expire on Sep 30, 2019 — will run up to 12 months, beginning Oct 1, 2019.

With this contract extension, Jacobs will continue environmental remediation cleanup along the Columbia River and selected portions of the Hanford site. This includes the removal of highly radioactive soil beneath the 324 Building, and moving cesium and strontium capsules out of Waste Encapsulation and Storage Facilities to dry storage.

The company had acquired CH2M HILL Companies Ltd. (CH2M) in December 2017, in turn strengthening the global water business. The main purpose of this acquisition was to diversify Jacobs' presence in water, nuclear and environmental remediation sectors. The CH2M buyout also fortified businesses across the industrial sector.

Jacobs' Aerospace, Technology and Nuclear or ATN business (accounting for 36.5% of total revenues) serves global automotive, aerospace, telecommunications, defense and nuclear clients, as well as the U.S. intelligence community. Revenues from the segment increased 13.2% year over year. The segment's backlog at the end of the quarter was roughly $8.5 billion, up 18.3% year over year.

The company is successfully executing the ATN business, which is well positioned to deliver double-digit year-over-year profit growth in fiscal 2019. Notably, its focus on long-term mission-critical enterprise contracts bodes well. It has a robust pipeline of more than $30 billion through 2020. These positives are likely to continue driving Jacobs' bottom line in the upcoming quarters.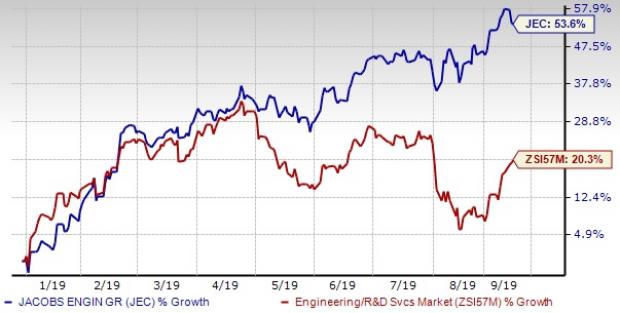 Shares of the company have rallied almost 54% so far this year, outperforming its industry's 20.3% growth. The price performance is backed by an impressive earnings surprise history. The company surpassed earnings estimates in eight of the trailing nine quarters. The outperformance is likely to continue in the near term as well, buoyed by strong backlog, inorganic moves, its transformed portfolio, and increased focus on infrastructure, aerospace, cybersecurity and technical building projects.

Zacks Rank & Other Stocks to Consider

Currently, Jacobs carries a Zacks Rank #2 (Buy). Other top-ranked stocks in the same industry include MasTec, Inc. MTZ, North American Construction Group Ltd. NOA and KBR, Inc. KBR. While MasTec and North American Construction sport a Zacks Rank #1 (Strong Buy), KBR carries a Zacks Rank #2. You can see the complete list of today's Zacks #1 Rank stocks here.

MasTec's earnings for the current year are expected to increase 32.4%.

KBR has three-five year expected EPS growth rate of 10%.

North American Construction's earnings are expected to grow 228.6% in 2019.

Breakout Biotech Stocks with Triple-Digit Profit Potential

The biotech sector is projected to surge beyond $775 billion by 2024 as scientists develop treatments for thousands of diseases. They're also finding ways to edit the human genome to literally erase our vulnerability to these diseases.

Zacks has just released Century of Biology: 7 Biotech Stocks to Buy Right Now to help investors profit from 7 stocks poised for outperformance. Our recent biotech recommendations have produced gains of +98%, +119% and +164% in as little as 1 month. The stocks in this report could perform even better.

See these 7 breakthrough stocks now>>
Want the latest recommendations from Zacks Investment Research? Today, you can download 7 Best Stocks for the Next 30 Days.
Click to get this free report
MasTec, Inc. (MTZ): Free Stock Analysis Report
Jacobs Engineering Group Inc. (JEC): Free Stock Analysis Report
KBR, Inc. (KBR): Free Stock Analysis Report
North American Construction Group Ltd. (NOA): Free Stock Analysis Report
To read this article on Zacks.com click here.
Zacks Investment Research