Illinois Tool Shares Gain 19% in 3 Months: What's Driving It?
Shares of Illinois Tool Works Inc. ITW have gained notably in the past three months. Solid product offerings, a diversified business structure, cost-management actions and a hike in the quarterly dividend rate seem to have boosted sentiments for the stock.

The Glenview, IL-based company belongs to the Zacks Manufacturing - General Industrial industry — which is among the top 49% (with rank of 122) of more than 250 Zacks industries. The company currently carries a Zacks Rank #3 (Hold). You can see the complete list of today's Zacks #1 Rank (Strong Buy) stocks here.

In the past three months, the company's shares have gained 18.5% against the industry's growth of 12.9%. Notably, the S&P 500 has risen 8.9% and the sector has grown 13.6% during the same period.
Factors Influencing the Stock
In the past three months, Illinois Tool has reported results for second-quarter 2020, with an earnings beat of 55.71%. Also, sales in the quarter surpassed estimates by 8.66%. It is worth mentioning here that the company kept its financial projections suspended for 2020 due to the pandemic-related worries.

Amid the pandemic-stricken environment, slowly recovering manufacturing activities — as evident from increasing manufacturing output (with 7.4% growth recorded in June and 3.4% gain in July) and rising ISM Purchasing Managers' Index (from 52.6% in June to 56% in August) — are signs of relief for manufacturing companies like Illinois Tool. Apart from this, the overall revival in the country's stock market might have supported the company's price improvement.

Also, Illinois Tool's cost-saving measures are expected to help it tide over the pandemic-related financial difficulties. As noted earlier, cost savings in excess of $140 million benefited the company in the second quarter of 2020. Further, a diversified business structure, solid product offerings, innovation efforts and enterprise strategy are other tailwinds that are expected to have contributed to the share price increase.

In addition, the company's board of directors' decision to hike the quarterly dividend rate by 6.5% or 7 cents per share reflects its commitment toward rewarding shareholders handsomely. The August-decision has significance as the hike was announced amid the pandemic.

Currently, the Zacks Consensus Estimate for the company's earnings is pegged at $5.76 for 2020 and $6.88 for 2021, marking an increase of 9.1% and 4.2% from the respective 60-day-ago figures. Notably, nine upward revisions in earnings estimates were recorded for 2020 and six for 2021. There was no downward revision for 2020 and two for 2021.
Illinois Tool Works Inc. Price and Consensus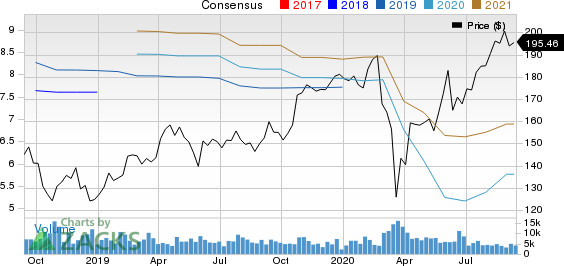 Illinois Tool Works Inc. price-consensus-chart | Illinois Tool Works Inc. Quote
Also, earnings estimates for the third quarter have improved from $1.19 to $1.41 in the past 60 days. Such an upward revision in earnings estimates is reflective of improving operating conditions for the company.
Illinois Tool's Performance Versus Industry Players
The company outperformed three companies in the industry — including Standex International Corporation SXI, Kadant Inc. KAI and Parker-Hannifin Corporation PH — in the past three months. During the period, Standex, Kadant and Parker-Hannifin's shares have gained 5.5%, 12.1% and 13.8%, respectively.
Breakout Biotech Stocks with Triple-Digit Profit Potential
The biotech sector is projected to surge beyond $775 billion by 2024 as scientists develop treatments for thousands of diseases. They're also finding ways to edit the human genome to literally erase our vulnerability to these diseases.

Zacks has just released Century of Biology: 7 Biotech Stocks to Buy Right Now to help investors profit from 7 stocks poised for outperformance. Our recent biotech recommendations have produced gains of +50%, +83% and +164% in as little as 2 months. The stocks in this report could perform even better.

See these 7 breakthrough stocks now>>
Want the latest recommendations from Zacks Investment Research? Today, you can download 7 Best Stocks for the Next 30 Days.
Click to get this free report
Illinois Tool Works Inc. (ITW): Free Stock Analysis Report
ParkerHannifin Corporation (PH): Free Stock Analysis Report
Kadant Inc (KAI): Free Stock Analysis Report
Standex International Corporation (SXI): Free Stock Analysis Report
To read this article on Zacks.com click here.
Zacks Investment Research