Citi (C) to Add Staff in Crypto Unit to Boost Market Exposure
In an effort to strengthen and enhance its presence in the digital asset space, Citigroup Inc. C is set to hire 100 additional people to its blockchain and digital assets division. The move comes amid increasing institutional investor demand for exposure to the cryptocurrency market.

Per a memo shared by Citigroup with CoinDesk, the company is appointing Puneet Singhvi as head of the division of the Institutional Clients Group ("ICG") segment, which will come into effect on Dec 1, 2021.

Singhvi will now report to Emily Turner, who is in charge of business development at the ICG. Shobhit Maini and Vasant Viswanathan will co-head Global Markets' blockchain and digital assets.

Singhvi was the head of Citigroup's blockchain and digital assets division for Global Markets.

Citigroup has been contemplating offering digital assets to clients.

Turner stated, "Prior to offering any products and services, we are studying these markets, as well as the evolving regulatory landscape and associated risks in order to meet our own regulatory frameworks and supervisory expectations."

Citigroup, which has been long planning to enter the crypto space, became one of the latest global banks to offer digital assets services for its wealthy clients when in June 2021, it announced the launch of the business offshoot — Digital Assets Group.

The division, part of the bank's wealth management division, focuses on cryptocurrencies, non-fungible tokens, stablecoins and central bank digital currencies.

Notably, Citigroup's long-term strategy to increase fee-based business mix and shrink its non-core assets bodes well for long-term growth. The bank has been investing in growth opportunities across wealth and commercial banking, treasury and trade solutions, and securities service businesses to grow fee revenues across the ICG segment.

The efforts are expected to bolster Citigroup's position in the booming digital industry and help the bank diversify its revenue stream.

Over the past year, shares of Citigroup have rallied 19.3% compared with 43.7% growth recorded by the industry.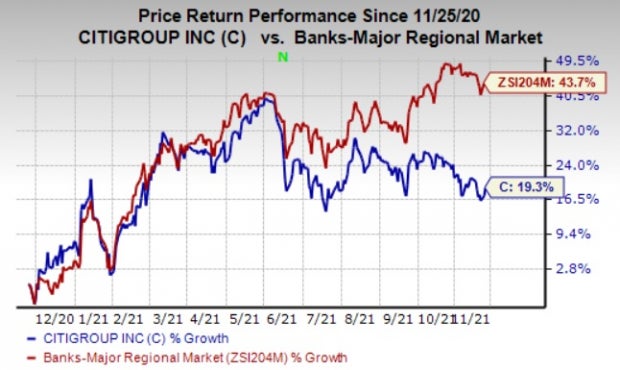 Image Source: Zacks Investment Research
Citigroup currently carries a Zacks Rank #3 (Hold). You can see the complete list of today's Zacks #1 Rank (Strong Buy) stocks here.
Our Take
Until July 2020, the Office of the Comptroller of the Currency did not grant permission to banks to hold cryptocurrencies. The amendment post-July gave banks the go-ahead to begin exploring cryptocurrency operations.

In fact, a few years ago, banks were also not very interested in the crypto and digital asset space. But now, after witnessing an increase in demand for the emerging market, banks and financial institutions are slowly embracing cryptocurrencies.

This July, JPMorgan JPM became the first major bank in the United States to allow its financial advisors to give all its wealth-management clients access to cryptocurrency funds. Next month, it came to light that JPMorgan was offering its Private Bank wealth management customers access to an in-house passively managed bitcoin fund. The offering was being made in partnership with bitcoin powerhouse New York Digital Investment Group.

JPMorgan has now launched a division focused on digital assets named Onyx. The Wall Street giant has even launched its own digital currency, JPM Coin.

Among others, Goldman Sachs GS launched trading with non-deliverable forwards, i.e. derivatives tied to Bitcoin's price, which will be cash-settled. Goldman Sachs is shielding itself from the cryptocurrency's fluctuations by trading Bitcoin futures in block trades on CME Group Inc., with Cumberland DRW as its trading partner.

The Bank of New York Mellon Corporation BK has been working on offering custodial services to clients. This February, BNY Mellon became the first global custody bank to announce plans to form a new unit called Digital Assets to help its institutional clients hold, transfer and issue digital assets.
Zacks' Top Picks to Cash in on Artificial Intelligence
This world-changing technology is projected to generate $100S of billions by 2025. From self-driving cars to consumer data analysis, people are relying on machines more than we ever have before. Now is the time to capitalize on the 4th Industrial Revolution. Zacks' urgent special report reveals 6 AI picks investors need to know about today.
See 6 Artificial Intelligence Stocks With Extreme Upside Potential>>
Want the latest recommendations from Zacks Investment Research? Today, you can download 7 Best Stocks for the Next 30 Days.
Click to get this free report
The Goldman Sachs Group, Inc. (GS): Free Stock Analysis Report
JPMorgan Chase & Co. (JPM): Free Stock Analysis Report
Citigroup Inc. (C): Free Stock Analysis Report
The Bank of New York Mellon Corporation (BK): Free Stock Analysis Report
To read this article on Zacks.com click here.
Zacks Investment Research