Novartis (NVS) to Acquire Neuroscience Company for Up to $770M
Novartis NVS entered into an agreement to acquire privately held Cadent Therapeutics, a Massachusetts-based neuroscience company. Upon the closing of the agreement, Cadent will receive a $210-MILLION upfront payment and will be eligible for up to $560 million in milestone payments, for a total potential consideration of $770 million. The transaction is expected to close during the first quarter of 2021.
Shares of the company have decreased 1.6% year to date against the industry's growth of 5.9%.

The acquisition will give Novartis full rights to Cadent's neuroscience portfolio, including two clinical-stage molecules for schizophrenia and movement disorders, and MIJ821, which is a clinical-stage molecule previously licensed exclusively by Novartis for addressing treatment-resistant depression.
The first of the three candidates included in the acquisition isCAD-9303, which is in phase I study for the treatment of schizophrenia. The second one, MIJ821, is an experimental therapy for depression and being tested in a phase II study overseen by Novartis. The third program, CAD-1883, is a phase II asset and being explored for movement disorders.
With the acquisition, Novartis wants to make progress in developing potential neuropsychiatric medicinesby bringing potentially transformative therapies to patients who suffer from severe, chronic neuropsychiatric illnesses.
Separately, in another release, Novartis announced that the FDA grantediptacopan (LNP023) Breakthrough Therapy Designation (BTD) in paroxysmal nocturnal hemoglobinuria (PNH) and Rare Pediatric Disease (RPD) designation in C3 glomerulopathy (C3G). PNH is a rare and life-threatening blood disorder. C3G, an ultra-rare and severe form of primary glomerulonephritis, is characterized by complement dysregulation.
The FDA granted BTD to iptacopan for the treatment of PNH based on positive interim results from two ongoing phase II studies, where iptacopan showed substantial benefits both in patients who remained anemic and dependent on transfusions despite standard of care anti-complement treatment, as well as monotherapy in anti-C5-naive PNH patients.
Novartis AG Price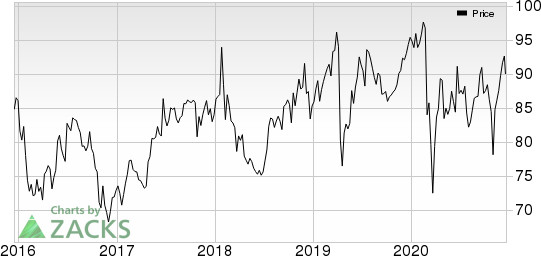 Zacks Rank & Stocks to Consider
Novartis currently carries a Zacks Rank #3 (Hold).
Some better-ranked stocks in the healthcare sector include Aerpio Pharmaceuticals Ltd. ARPO, ASLAN Pharmaceuticals Ltd. ASLN and Alimera Sciences Inc. ALIM, each carrying a Zacks Rank #2 (Buy). You can see the complete list of today's Zacks #1 Rank (Strong Buy) stocks here.
Aerpio's loss per share estimates have narrowed from 15 cents to 14 cents for 2020 and from 63 cents to 57 cents for 2021 over the past 60 days.
ASLAN's loss per share estimates have narrowed from 42 cents to 40 cents for 2020 and from 60 cents to 57 cents for 2021 over the past 60 days.
Alimera's loss per share estimates have narrowed from $1.31 to 96 cents for 2020 over the past 60 days.
These Stocks Are Poised to Soar Past the Pandemic
The COVID-19 outbreak has shifted consumer behavior dramatically, and a handful of high-tech companies have stepped up to keep America running. Right now, investors in these companies have a shot at serious profits. For example, Zoom jumped 108.5% in less than 4 months while most other stocks were sinking. Our research shows that 5 cutting-edge stocks could skyrocket from the exponential increase in demand for "stay at home" technologies. This could be one of the biggest buying opportunities of this decade, especially for those who get in early.
See the 5 high-tech stocks now>>
Want the latest recommendations from Zacks Investment Research? Today, you can download 7 Best Stocks for the Next 30 Days.
Click to get this free report
Novartis AG (NVS): Free Stock Analysis Report
Alimera Sciences, Inc. (ALIM): Free Stock Analysis Report
Aerpio Pharmaceuticals, Inc. (ARPO): Free Stock Analysis Report
ASLAN Pharmaceuticals Ltd. (ASLN): Free Stock Analysis Report
To read this article on Zacks.com click here.
Zacks Investment Research