Disney Whistleblower's Time in the Sun
Former Walt Disney DIS employee and financial analyst Sandra Kuba has been trying for years to bring certain accounting irregularities to the company's notice. But after reporting the news to management in 2013 and then, going higher up in 2016, she finally took the matter to the SEC in August 2017. She was fired a month later, after which she filed a whistleblower-retaliation complaint with the Department of Labor's Occupational Safety and Health Administration.
Disney's response was simple, that "she displayed a pattern of workplace complaints against co-workers without a reasonable basis for doing so, in a manner that was inappropriate, disruptive and in bad faith."
There could be some truth in this, because Jordan A. Thomas, a former attorney in the SEC's enforcement division and chairman of Labaton Sucharow's whistleblower-representation practice, says that "The SEC receives more than 25,000 tips, complaints and referrals each year, and the vast majority do not make it this far. The fact that the SEC has asked for more information more than once and conducted interviews suggests an inquiry is underway."
Market Watch carried the story, much to Disney's dissatisfaction. Its statement said that "The claims she made to the company were thoroughly investigated and found to be utterly baseless. It is unfortunate that MarketWatch, which has been aware of the facts for months, knowingly and deliberately chose to give Ms. Kuba's unfounded claims a platform."
The Main Problem
The main problem she talks about is that of revenue inflation back in 2008-2009. This was done in several ways, including recording sales when free gift cards were used and recording sales twice on gift cards, once when they were sold and again when they were used. \Moreover, a flaw in the accounting system made the irregularity hard to trace, although they were of significant amount. She claims that in 2008-2009, revenue figures may have been overstated by as much as $6 billion, when the company's revenue for the year totaled $10.6 billion.
In two subsequent complaints to the SEC, she has alleged a number of things, checked by MarketWatch. The most recent one from June 2019 says that "Disney employees reclassified guest revenue from high-sales-tax items such as hotel rooms to lower-taxed items such as food and beverages with the purpose of significantly reducing sales tax liabilities in Florida, California and Hawaii." The complaints are very specific, which lends further credibility to the issue, not matter how it's brushed aside by Disney spokespersons.
Bad News Follows Bad Quarterly Results
This follows the company's disappointing third-quarter results reported earlier this month, wherein integration of 21st Century Fox and Hulu had a greater-than-expected impact. Adjusted earnings were still short of the Zacks Consensus Estimate by 41 cents, or 23.3%.
Earnings dropped 27.8% from a year ago despite revenues increasing 32.9%.
To make matters worse, management said that while the revenue trajectory was likely to remain encouraging, current quarter results will be impacted by continuing investments, increasing expenses and consolidation cost as offset by a contribution from 21st Century Fox.
So unsurprisingly, the Zacks Consensus Estimate is down 12.6% for the current quarter and down 8.4% for the year.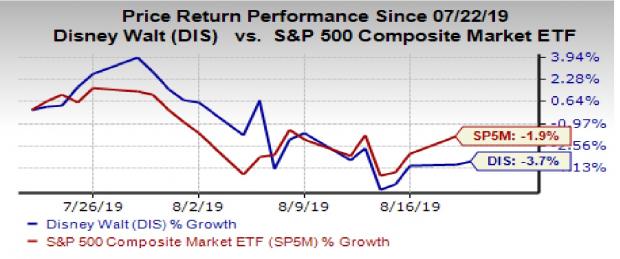 Recommendations
Disney has a Zacks Rank #5 (Strong Sell). So companies like AngloGold Ashanti Ltd. AU, Vipshop Holdings Ltd. VIPS, Bristol-Myers Squibb Co. BMY and Integer Holdings Corp. ITGR are better options. Better still, check out the complete list of today's Zacks #1 Rank (Strong Buy) stocks here.
Legalizing THIS Could Be Even Bigger than Marijuana
Americans spend an estimated $150 billion in this industry every year… more than twice as much as they spend on marijuana.
Now that 8 states have fully-legalized it (with several more states following close behind), Zacks has identified 5 stocks that could soar in response to the powerful demand. One industry insider described the future as "mind-blowing" – and early investors can still get in ahead of the surge.
See these 5 "sin stocks" now >>
Want the latest recommendations from Zacks Investment Research? Today, you can download 7 Best Stocks for the Next 30 Days.
Click to get this free report
The Walt Disney Company (DIS): Free Stock Analysis Report
Vipshop Holdings Limited (VIPS): Free Stock Analysis Report
Bristol-Myers Squibb Company (BMY): Free Stock Analysis Report
Integer Holdings Corporation (ITGR): Free Stock Analysis Report
AngloGold Ashanti Limited (AU): Free Stock Analysis Report
To read this article on Zacks.com click here.
Zacks Investment Research