Air Products (APD) Shares Up 10% in 3 Months: Here's Why
Air Products and Chemicals, Inc.'s APD shares have gained 9.8% over the past three months, outperforming the industry's growth of 4.7%.
The company has a market cap of roughly $52 billion and an average volume of shares traded in the last three months is around 1,020.5K. Air Products has expected long-term earnings per share growth of 12.3%.
Let's take a look into the factors that are driving this Zacks Rank #3 (Hold) stock.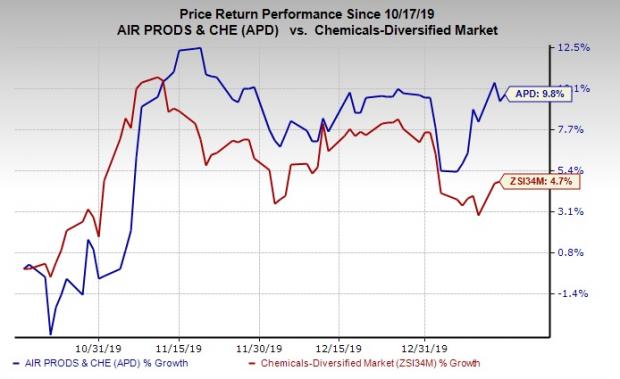 Factors Driving Air Products
A buoyant outlook for fiscal 2020 and healthy growth prospects have contributed to the improvement in Air Products' shares.
On its fourth-quarter fiscal 2019 earnings call, the company expected adjusted earnings of $9.35-$9.60 per share for fiscal 2020. This suggests 14-17% rise from the year-ago reported figure. The company expects adjusted EPS of $2.05-$2.10 for first-quarter fiscal 2020, which indicates 10-13% rise year over year.
The Zacks Consensus Estimate for fiscal 2020 earnings of $9.47 suggests year-over-year growth of 15.3%. Moreover, the company's earnings are expected to register 11.8% growth in the fiscal first quarter.
Air Products' investments in high-return projects, project wins and productivity actions should drive its fiscal 2020 results. Notably, the company's latest project in the United States, which is worth $500 million, showcases its core strengths and capabilities for supplying nitrogen from an air separation unit (ASU) and hydrogen from a steam methane reformer (SMR). It marks the company's largest investment so far in the United States. The project will likely boost the size and supply capacity of Air Products' extensive hydrogen pipeline system in the Gulf Coast.
Moreover, the company expects the Jazan gas and power project in Saudi Arabia to contribute to growth in adjusted earnings per share in fiscal 2020. The Lu'An syngas project in China is also contributing to the results of Air Products' Industrial Gases – Asia segment.
The company has total available capacity to deploy (over fiscal 2018-2022) nearly $18 billion in high-return investments, aimed at creating significant shareholder value. It has already spent or committed more than half of the capacity.
Air Products also remains committed to boosting productivity to improve its cost structure. The company is seeing positive impacts of its productivity actions and is expected to benefit from additional productivity and cost improvement programs in fiscal 2020.
Moreover, Air Products remains committed to maximizing returns to shareholders. The company generated $2.7 billion of distributable cash flow in fiscal 2019. This marks an increase of nearly 20% from the fiscal 2018 level. This distributable cash flow enabled it to pay roughly $1 billion or around 40% as dividends to shareholders.
Air Products and Chemicals, Inc. Price and Consensus
Stocks to Consider
Some better-ranked stocks in the basic materials space are Daqo New Energy Corp. DQ, Pan American Silver Corp. PAAS and Sibanye Gold Limited SBGL.
Daqo New Energy has a projected earnings growth rate of 315.4% for 2020. The company's shares have rallied 96.3% in a year. It sports a Zacks Rank #1 (Strong Buy) at present. You can see the complete list of today's Zacks #1 Rank stocks here.
Pan American Silver has an estimated earnings growth rate of 46.7% for 2020. It currently flaunts a Zacks Rank #1. The company's shares have gained 56.9% in a year.
Sibanye Gold has a Zacks Rank #2 (Buy) and a projected earnings growth rate of 587.5% for 2020. The company's shares have soared 245.8% in a year.
Free: Zacks' Single Best Stock Set to Double

Today you are invited to download our latest Special Report that reveals 5 stocks with the most potential to gain +100% or more in 2020. From those 5, Zacks Director of Research, Sheraz Mian hand-picks one to have the most explosive upside of all.

This pioneering tech ticker had soared to all-time highs and then subsided to a price that is irresistible. Now a pending acquisition could super-charge the company's drive past competitors in the development of true Artificial Intelligence. The earlier you get in to this stock, the greater your potential gain.

See 5 Stocks Set to Double>>
Want the latest recommendations from Zacks Investment Research? Today, you can download 7 Best Stocks for the Next 30 Days.
Click to get this free report
Air Products and Chemicals, Inc. (APD): Free Stock Analysis Report
DAQO New Energy Corp. (DQ): Free Stock Analysis Report
Sibanye Gold Limited (SBGL): Free Stock Analysis Report
Pan American Silver Corp. (PAAS): Free Stock Analysis Report
To read this article on Zacks.com click here.
Zacks Investment Research