Ericsson (ERIC) Targets Virtualized 5G RAN, Unveils Open Lab
At a time when majority of the service providers are shifting toward faster adoption of automated networks to realize 5G use case scenarios, Ericsson ERIC also followed suit. As a case in point, the company recently unveiled Ericsson Open Lab to accelerate the development of virtualized 5G Radio Access Network (RAN) technologies for a seamless communications infrastructure. Markedly, the latest launch aims to explore Open RAN technologies like orchestration and virtualization on the back of collaboration activities.

Evidently, the collaboration will help advance 5G standards as the industry continues to embrace next-gen architectures for flexible networks, thereby delivering enhanced customer experiences. It is worth mentioning that the offering comes as a boon for communication service providers (CSPs) to enable them to drive Cloud RAN innovation, globally, especially when providing differentiated services in a dynamic telecommunications industry is a persistent challenge amid rapid technological shifts.

As a 5G RAN vendor for several companies, this Swedish telco equipment maker is consistently leaving no stone unturned to develop its best-in-class capabilities in communications solutions while improving revenues on the back of its technological prowess. Majority of the industries are transitioning to automated operations for addressing business and mission-critical needs, and Ericsson Open Lab aptly serves this purpose with utmost efficiency and agility.

Located in Ottawa, Ericsson Open Lab is an out-of-the-box facility that is equipped with the benefits of both virtual and physical lab environments to boost 5G innovation. With an acute focus on testing Cloud RAN capabilities, it enables interactive collaboration and co-creation with enterprise customers, industry partners and CSPs on a real time basis to bolster virtualized 5G RAN solutions for new deployments. It also allows service providers to expand offerings and tap evolving network opportunities like automation and machine learning.

Notably, Cloud RAN is a cloud-native solution that adds flexibility to a service provider's purpose-built 5G network. The latest offering aims to augment the company's partner ecosystem of service providers to test the limits of 5G connectivity and co-develop trailblazing RAN solutions in the Open Lab for a streamlined connectivity framework. Some of the service providers and industry partners include Orange S.A. ORAN, KDDI Corporation KDDIY, NVIDIA Corporation NVDA and Intel. With its latest launch, Ericsson Open Lab is likely to boost both industry cooperation and next-gen networks with greater flexibility, thereby enhancing RAN innovation for a better future.

Ericsson is witnessing a healthy momentum in its business, based on its strategy to increase investments in 5G, thus enabling new use cases in IoT and Big Data. Moreover, investments in research and development helped establish the industry player as a leader in 5G. The company's patent licensing business continues to perform well, backed by a robust intellectual property rights portfolio. Such optimistic industry trends are expected to bode well for this Swedish entity in the long run.

Ericsson currently carries a Zacks Rank #2 (Buy). It has a long-term earnings growth expectation of 28.9%. The stock has gained 64% compared with the industry's growth of 68.9% in the past year. You can see the complete list of today's Zacks #1 Rank (Strong Buy) stocks here.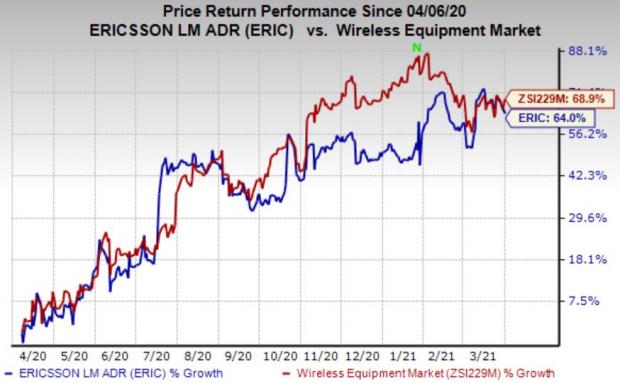 Bitcoin, Like the Internet Itself, Could Change Everything
Blockchain and cryptocurrency has sparked one of the most exciting discussion topics of a generation. Some call it the "Internet of Money" and predict it could change the way money works forever. If true, it could do to banks what Netflix did to Blockbuster and Amazon did to Sears. Experts agree we're still in the early stages of this technology, and as it grows, it will create several investing opportunities.

Zacks' has just revealed 3 companies that can help investors capitalize on the explosive profit potential of Bitcoin and the other cryptocurrencies with significantly less volatility than buying them directly.

See 3 crypto-related stocks now >>
Want the latest recommendations from Zacks Investment Research? Today, you can download 7 Best Stocks for the Next 30 Days.
Click to get this free report
NVIDIA Corporation (NVDA): Get Free Report
Ericsson (ERIC): Free Stock Analysis Report
KDDI Corporation Unsponsored ADR (KDDIY): Free Stock Analysis Report
Orange (ORAN): Free Stock Analysis Report
To read this article on Zacks.com click here.
Zacks Investment Research