Microsoft (MSFT) Q4 2019 Earnings Preview: Cloud, Computing & More
Microsoft MSFT stock dipped 1.3% during regular trading Tuesday, but still rests right near its 52-week highs. In fact, MSFT stock has soared 35% in 2019 to easily outpace its industry and the S&P 500.
With the tech firm set to release its Q4 fiscal 2019 financial results on Thursday, let's see what to expect from not only its top and bottom lines but also some of its key business units such as Intelligent Cloud to help us see if its impressive run might continue.
Q2 Earnings Season Snapshot
The big bank stocks helped unofficially kickstart second quarter earnings season on Monday and Tuesday. Overall, more than 140 companies are set to report their quarterly results this week. This list features nearly 60 S&P 500 members, which includes IBM IBM, Netflix NFLX, United Airlines, and many more
Total second-quarter earnings for the S&P 500 index are expected to be down 3.4% from the year-ago period on +3.9% higher revenues. This would follow a 0.2% decline on 4.5% higher revenues in Q1 (also read: Is the Bar Too Low for Q2 Earnings?).
Quick MSFT Overview
Microsoft is currently the world's most valuable public company, with a market cap of over $1 trillion. The firm's legacy Office and Windows businesses remain vital to enterprises and individuals. But it is Microsoft's expansion into cloud computing that helped drive the stock and growth in recent years. The firm is now Amazon's AMZN largest competitor in the space. MSFT's cloud growth, led by Azure, has helped it stand out against everyone from Google GOOGL to IBM IBM.
The Redmond, Washington-based firm also expanded into artificial intelligence and IoT, as it continues to acquire firms. More recently, MSFT teased some of its next-generation video game plans to help capture more of the $135 billion global gaming industry.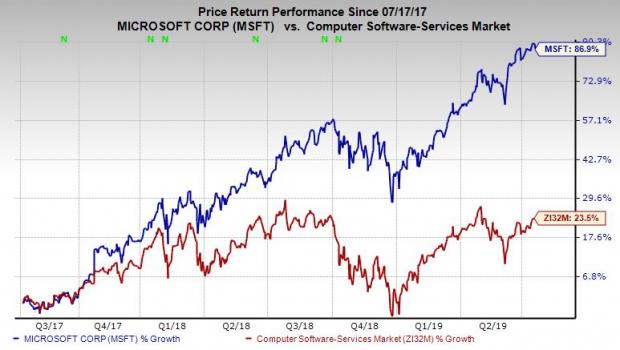 Q4 Estimates
Looking ahead, MSFT's Q4 fiscal 2019 revenue is projected to jump 8.8% to $32.73 billion, based our current Zacks Consensus Estimate. This would represent a slowdown from last quarter's 14% expansion. With that said, investors should note that this expected growth would come on top of the year-ago period's 17% climb.
At the bottom end of the income statement, Microsoft's adjusted Q4 earnings are projected to pop 7.1% to reach $1.21 per share. Last quarter, the firm's EPS grew by 20% and beat our estimates by 14%. MSFT almost always beats bottom-line projection though. This means we need to look at its specific business units to gain a more complete understanding of its outlook and how Wall Street might react, which we will do with the help of our Key Company Metrics.
Intelligent Cloud
More specifically, Microsoft's Intelligent Cloud revenue is projected to jump approximately 14.5% from $9.606 billion in the year-ago period to reach $11.001 billion in Q4, based on our NFM estimates. Last quarter, this key segment saw its revenue jump roughly 22% to $9.7 billion. Intelligent Cloud revenue jumped 23% in Q4 2018.

Productivity and Business Processes
Now let's take a look at Productivity and Business Processes, which includes Office, LinkedIn, and more. The unit surged 14% in Q3 to hit $10.2 billion and 13% in Q4 2018. With this in mind, unit revenue is projected to jump from $9.668 billion in the prior-year quarter to $10.710 billion, which would mark a roughly 11% climb.
More Personal Computing
The last division MSFT really breaks down in its earnings report is More Personal Computing. This unit, which includes Windows, gaming, and Surface, climbed 8% in Q3 and 17% in the fourth quarter of 2018. But this is where we expect to see the biggest slowdown in revenue, as our estimates call for just under 2% growth from $10.811 billion in Q4 2018 to $10.995 billion this quarter.
Bottom Line
Microsoft is a Zacks Rank #3 (Hold) right now, but analysts could make changes to their estimates over the next few days to possibly impact its standing. MSFT is scheduled to release its official Q4 fiscal 2019 financial results after the closing bell on Thursday, July 18. Make sure to come back to Zacks for a complete rundown of the actual metrics and to see what's next for the tech powerhouse.
Radical New Technology Creates $12.3 Trillion Opportunity

Imagine buying Microsoft stock in the early days of personal computers… or Motorola after it released the world's first cell phone. These technologies changed our lives and created massive profits for investors.

Today, we're on the brink of the next quantum leap in technology. 7 innovative companies are leading this "4th Industrial Revolution" - and early investors stand to earn the biggest profits.

See the 7 breakthrough stocks now>>

Want the latest recommendations from Zacks Investment Research? Today, you can download 7 Best Stocks for the Next 30 Days.
Click to get this free report
International Business Machines Corporation (IBM): Free Stock Analysis Report
Netflix, Inc. (NFLX): Free Stock Analysis Report
Amazon.com, Inc. (AMZN): Free Stock Analysis Report
Alphabet Inc. (GOOGL): Free Stock Analysis Report
Microsoft Corporation (MSFT): Free Stock Analysis Report
To read this article on Zacks.com click here.
Zacks Investment Research