Can Strategic Measures Help Reverse Nokia's (NOK) Downtrend?
Nokia Corporation's NOK shares jumped 6.1% in yesterday's trading session, as it is reportedly mulling to explore a couple of strategic options like asset sale, and mergers with rival firms in the face of intense 5G competition in the global arena. This, in turn, is expected to provide a significant thrust to the beleaguered company, which has witnessed a decline of 31.9% in the past year.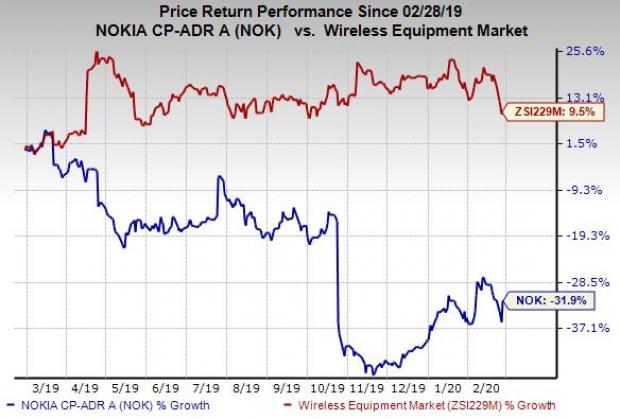 Why the Dismal Performance?

The Finnish telecom equipment maker's performance was abysmal last year, primarily due to intense competition, escalating cost of sales, operational adversities coupled with its inefficacy to catch-up with rapid technological advancements in the 5G era. To add to this, its shares witnessed a major slip in October 2019 due to disappointing third-quarter 2019 earnings. This was followed by its decision to suspend dividend payments and slash guidance for 2020.

Despite an impressive 4.2% rise in revenues in third-quarter 2019, the company's financial performance took a backseat as its gross margin was negatively impacted by a high cost level associated with its first generation 5G products, product mix and profitability challenges in China. The weak performance was further aggravated by pricing pressure in early 5G deals and temporary capital expenditure constraints in North America related to the proposed merger of T-Mobile US, Inc. TMUS and Sprint Corporation S.

Apart from a tumultuous state of finances, the tech behemoth has also been suffering from age-old organizational dysfunctionalities. Last year, the company's chairman Risto Siilasmaa's decision to quit after eight long years stirred speculations of possible changes in its overall management. The move did not come as a surprise after CEO Rajeev Suri warned that any further investments to thwart 5G competition in the global arena might affect its profitability in the days to come.

Nokia has largely been a victim of these vulnerabilities as it faced elevated 5G product costs in Networks segment with higher levels of deployment service costs. Paucity of demand due to challenging macroeconomic environment and geopolitical uncertainties has dented margins. Notably, its ability to bounce back on growth and profitability was mainly hampered by its struggle to be on par with arch rival Ericsson ERIC, which spends billions of dollars on R&D. The geared up 5G spending cycle and dearth of resources have put Nokia at the risk of losing out on upcoming commercial launches.

Light at the End of the Tunnel?

Despite a disappointing performance in 2019, Nokia is aiming to reposition its brand image. The company is reportedly mulling to explore strategic options like investment shift, asset sale or a potential merger with Ericsson. The merger, which is anticipated to aid both the companies, will not only tackle aggressive pricing structure adopted by Chinese counterpart, Huawei, but will also help the distressed company to emerge as a dominant player in the realm of next-gen mobile networks. In addition, Nokia can witness a healthy balance sheet if it resorts to the sale of its intellectual property unit, which generates revenues of nearly $1.6 billion annually.

Huawei, which is considered to be the primary reason for the alleged merger, is a severe threat to the Nordic companies. As a result, the Trump administration is contemplating to back these tech behemoths like Nokia to deter Huawei. This is likely to be either achieved through direct funding or through consortium of private American and allied companies, backed by a $1 billion-plus government funding. In fact, the U.K. government's decision to put a 35% cap on Huawei has also proved to be favorable for Nokia due to its augmented presence in European markets.

Although Nokia has been struggling amid intense competition and geopolitical tensions, it is one of the few companies that has clinched more than 50 commercial 5G deals worldwide from diverse organizations. Much of this solid momentum can be attributed to the company's solid foundation of mutual trust and confidence from the existing pool of customers that enabled seamless transition from 4G to 5G.

Leveraging best-in-class technological capabilities, Nokia is transforming the way people and things communicate and connect with each other. These include seamless transition to 5G technology, ultra-broadband access, IP and Software Defined Networking, cloud applications and IoT. In particular, this Zacks Rank #3 (Hold) stock has witnessed strong customer interests from Nordic countries as European firms largely stood by President Trump's appeals to stop using Chinese telecom equipment on the grounds of security concerns. You can see the complete list of today's Zacks #1 Rank (Strong Buy) stocks here.

Today's Best Stocks from Zacks

Would you like to see the updated picks from our best market-beating strategies? From 2017 through 2019, while the S&P 500 gained an impressive +53.6%, five of our strategies returned +65.8%, +97.1%, +118.0%, +175.7% and even +186.7%.

This outperformance has not just been a recent phenomenon. From 2000 – 2019, while the S&P averaged +6.0% per year, our top strategies averaged up to +54.7% per year.

See their latest picks free >>
Want the latest recommendations from Zacks Investment Research? Today, you can download 7 Best Stocks for the Next 30 Days.
Click to get this free report
Nokia Corporation (NOK): Free Stock Analysis Report
Ericsson (ERIC): Free Stock Analysis Report
Sprint Corporation (S): Free Stock Analysis Report
T-Mobile US, Inc. (TMUS): Free Stock Analysis Report
To read this article on Zacks.com click here.
Zacks Investment Research