Biogen (BIIB) to Report Q3 Earnings: What's in the Cards?
Biogen, Inc. BIIB will report third-quarter 2021 results on Oct 20, before market open. In the last reported quarter, the company delivered an earnings surprise of 24.29%.
The company's earnings beat estimates in three of the last four quarters while missing in one. The company has a four-quarter earnings surprise of 8.10%, on average.
Biogen Inc. Price and EPS Surprise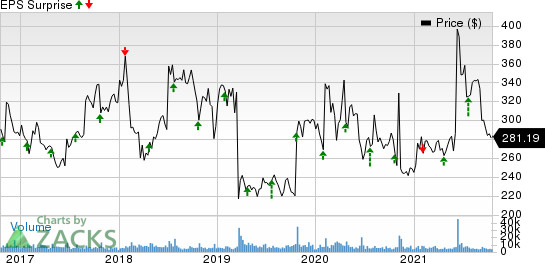 Biogen's stock has risen 14.8% this year so far against a decrease of 11% for the industry.

Image Source: Zacks Investment Research
Factors to Consider
Biogen's multiple sclerosis sales, excluding Ocrevus royalties, have been declining since the past few quarters. It is unlikely that MS sales have improved in the third quarter.
Among Biogen's MS drugs, sales of Tecfidera are likely to have declined steeply, hurt by the launch of multiple generics in the United States.
Sales of another MS drug, Tysabri may have benefited from volume increases and patient growth, despite increased competitive pressure and price reductions in certain European markets.
The Zacks Consensus Estimate for sales of Tecfidera in the third quarter is pegged at $402 million while that for Tysabri is $491 million.
Sales of new MS drug Vumerity are likely to have improved sequentially in the third quarter, continuing the trend observed in the first two quarters. The Zacks Consensus Estimate for Vumerityis $100 million.
Biogen receives royalties on U.S. sales of Roche's RHHBY newly launched MS drug, Ocrevus which is expected to have contributed to the top line. The Zacks Consensus Estimate for Ocrevus royalties is $258 million.
Meanwhile, the negative impact of COVID-19 and the lower rate of new patient starts due to increased competition in the United States are likely to have hurt Spinraza's sales in the United States. Outside the United States, sales of Spinraza might have increased. However, lower prices in some international markets might have hurt sales. The Zacks Consensus Estimate for sales of Spinraza is $485 million.
Regarding its new Alzheimer's drug, Aduhelm, Biogen stated at the Morgan Stanley Global Health Care Conference in September that the launch was slower than expected. The launch is facing some near-term challenges. Biogen's chief executive officer Michel Vounatsos said at the conference that the "confusion, misinformation and controversy" surrounding the drug's clinical data and approval process is responsible for the slower-than-expected launch of Aduhelm. At the Morgan Stanley conference, Biogen said that only about 50 sites across the country are infusing Aduhelm. In July, Biogen stated that several large treatment sites like Cleveland Clinic have said they will refrain from administering Aduhelm to patients for now. Investors will be keen to know Aduhelm's third-quarter sales, which are not expected to be much higher than $1.6 million recorded in the second quarter. Site preparations, payer coverage discussions, and dose titration are likely to have limited sales of Aduhelm.
Biosimilars revenues are likely to have been hurt by pricing pressure, a slowdown in new treatment starts and reduced clinic capacity for immunology patients in Europe as a result of COVID-19. The Zacks Consensus Estimate for sales of biosimilars is $214 million.
R&D and SG&A costs are expected to have risen in the third quarter due to new collaborations, program readouts, and investments for Aduhelm.
Earnings Whispers
Our proven model does not conclusively predict an earnings beat for Biogen this time around. The combination of a positive Earnings ESP and a Zacks Rank #1 (Strong Buy), 2 (Buy) or 3 (Hold) increases the odds of an earnings beat. But that is not the case here.
Earnings ESP: Biogen's Earnings ESP is -1.18% as the Zacks Consensus Estimate is pegged at $4.16 and the Most Accurate Estimate is lower at $4.11. You can uncover the best stocks to buy or sell before they're reported with our Earnings ESP Filter.
Zacks Rank: Biogen has a Zacks Rank #3.
Stocks to Consider
Here are some large drug/biotech stocks that have the right combination of elements to beat on earnings this time around:
Gilead GILD has an Earnings ESP of +6.25% and a Zacks Rank #3. You can see the complete list of today's Zacks #1 Rank stocks here.
Regeneron REGN has an Earnings ESP of +11.43% and a Zacks Rank #1.
Time to Invest in Legal Marijuana
If you're looking for big gains, there couldn't be a better time to get in on a young industry primed to skyrocket from $17.7 billion back in 2019 to an expected $73.6 billion by 2027.
After a clean sweep of 6 election referendums in 5 states, pot is now legal in 36 states plus D.C. Federal legalization is expected soon and that could be a still greater bonanza for investors. Even before the latest wave of legalization, Zacks Investment Research has recommended pot stocks that have shot up as high as +285.9%.
You're invited to check out Zacks' Marijuana Moneymakers: An Investor's Guide. It features a timely Watch List of pot stocks and ETFs with exceptional growth potential.
Today, Download Marijuana Moneymakers FREE >>
Want the latest recommendations from Zacks Investment Research? Today, you can download 7 Best Stocks for the Next 30 Days.
Click to get this free report
Regeneron Pharmaceuticals, Inc. (REGN): Free Stock Analysis Report
Biogen Inc. (BIIB): Free Stock Analysis Report
Roche Holding AG (RHHBY): Free Stock Analysis Report
Gilead Sciences, Inc. (GILD): Free Stock Analysis Report
To read this article on Zacks.com click here.
Zacks Investment Research