PVH (PVH) Recently Broke Out Above the 20-Day Moving Average
From a technical perspective, PVH (PVH) is looking like an interesting pick, as it just reached a key level of support. PVH recently overtook the 20-day moving average, and this suggests a short-term bullish trend.
The 20-day simple moving average is a popular investing tool. Traders like this SMA because it offers a look back at a stock's price over a shorter period and helps smooth out price fluctuations. The 20-day can also show more trend reversal signals than longer-term moving averages.
Similar to other SMAs, if a stock's price moves above the 20-day, the trend is considered positive, while price falling below the moving average can signal a downward trend.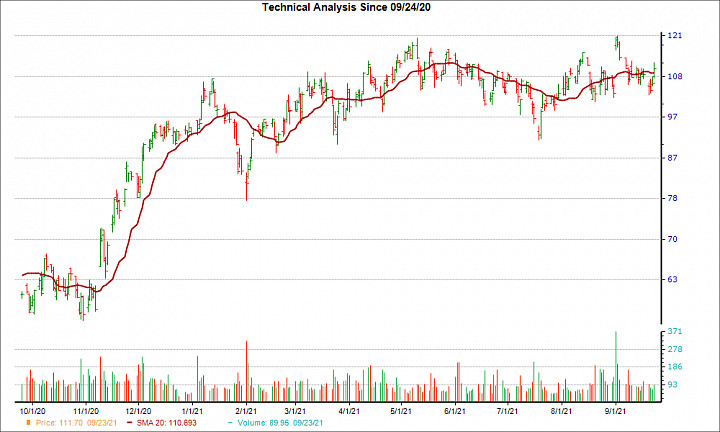 PVH has rallied 5.6% over the past four weeks, and the company is a Zacks Rank #1 (Strong Buy) at the moment. This combination suggests PVH could be on the verge of another move higher.
Looking at PVH's earnings estimate revisions, investors will be even more convinced of the bullish uptrend. There have been 7 revisions higher for the current fiscal year compared to none lower, and the consensus estimate has moved up as well.
Investors should think about putting PVH on their watchlist given the ultra-important technical indicator and positive move in earnings estimate revisions.
Time to Invest in Legal Marijuana
If you're looking for big gains, there couldn't be a better time to get in on a young industry primed to skyrocket from $17.7 billion back in 2019 to an expected $73.6 billion by 2027.
After a clean sweep of 6 election referendums in 5 states, pot is now legal in 36 states plus D.C. Federal legalization is expected soon and that could be a still greater bonanza for investors. Even before the latest wave of legalization, Zacks Investment Research has recommended pot stocks that have shot up as high as +285.9%.
You're invited to check out Zacks' Marijuana Moneymakers: An Investor's Guide. It features a timely Watch List of pot stocks and ETFs with exceptional growth potential.
Today, Download Marijuana Moneymakers FREE >>
Want the latest recommendations from Zacks Investment Research? Today, you can download 7 Best Stocks for the Next 30 Days.
Click to get this free report
PVH Corp. (PVH): Free Stock Analysis Report
To read this article on Zacks.com click here.