Nu Skin's (NUS) Effective Growth Efforts & Product Launches Aid
Nu Skin Enterprises, Inc. NUS looks well placed, courtesy of focus on growth efforts like the recently unveiled Nu Vision 2025. The company is also benefiting from technology advancements and well-strategized product launches.

Let's discuss this in detail.
Factors Working in Nu Skin's Favor
The company is optimistic about its Nu Vision 2025 strategy to become the world's leading integrated beauty and wellness company driven by a dynamic affiliate opportunity platform. The strategy is based around key strategic imperatives like EmpowerMe personalized beauty and wellness strategy with connected beauty devices, affiliate-powered social commerce business model and the expansion of the digital platform. The company's EmpowerMe strategy helps in empowering affiliates to attract, connect and nurture consumers. The strategy is designed to improve product consumption, attract new customers as well as affiliates, grow recurring revenues while increasing lifetime value.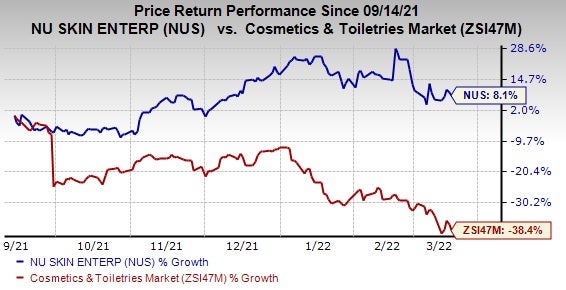 Image Source: Zacks Investment Research
With the help of advanced technology and well-strategized product programs, Nu Skin tries to capture greater market share and maintain growth momentum. The company's long-term strategies stand on three key pillars — Products, Programs and Platforms. Under the company's beauty products category, ageLOC Spa systems and ageLOC LumiSpa skin treatment and cleansing device delivered impressive results in 2021. The company's ageLOC beauty products contributed 48% to its beauty product category revenues and 26% to total revenues in 2021. Under the wellness category, its three top-selling products were LifePak nutritional supplements, ageLOC Youth nutritional supplements and ageLOC TR90 weight management and body shaping system in 2021. During the second half of 2021 and continuing into 2022, the company is launching the Beauty Focus Collagen+ skincare supplement and ageLOC Meta nutritional supplement, which aids metabolic health.
The company has been successfully launching innovative beauty devices, which has now become an important part of its growth. In 2022, management expects to roll out two connected "input/output" devices. The devices will accumulate data to provide insights into consumer behavior, aiding the company to provide enhanced personalized experiences for consumers. Apart from product launches, Nu Skin's well-knit product strategies and customer retention programs have been driving growth in several market locations. The company has also been executing cost-control measures to boost its profit scope.
Is all Rosy for Nu Skin?
Nu Skin delivered fourth-quarter 2021 results, with the top and the bottom line declining year over year. Sales leaders were down 13% to 61,515.Nu Skin's customer base declined 12% to 1,367,559. A decline in customers and sales leaders can mainly be attributed to ongoing softness in Mainland China business, pandemic-related operational disruptions in Southeast Asia as well as economic challenges in Latin America. Nu Skin highlighted that many of its Asian markets like Mainland China continue to face strict lockdowns as well as restrictions on in-person sales events and promotional activities

In fact, the company projects revenues of $590-$560 million that include unfavorable currency impacts of 2-3% for first-quarter 2022. The projection suggests a decline of 13-17% from the year-ago quarter's level. The company's quarterly earnings per share (EPS) is anticipated between 75 and 65 cents, indicating an 18-28% slump from the year-ago quarter's levels.

Nevertheless, we believe that the abovementioned upsides bode well for the long term and are likely to help this Zacks Rank #3 (Hold) company remain in investors' good books. Shares of Nu Skin have increased 8.1% in the past six months compared with the industry's decline of 38.4%.
Looking for Solid Staple Stocks? Check These
Some other better-ranked stocks are Inter Parfums, Inc. IPAR, Pilgrim's Pride PPC and Flowers Foods FLO.

Inter Parfums develops, manufactures and distributes prestige perfumes and cosmetics. It currently sports a Zacks Rank #1 (Strong Buy). Inter Parfums has a trailing four-quarter earnings surprise of 46.7%, on average. You can see the complete list of today's Zacks #1 Rank stocks here.

The Zacks Consensus Estimate for IPAR's current financial year sales and EPS suggests growth of 10.9% and 9.8%, respectively, from the year-ago period's figures.

Pilgrim's Pride, which produces, processes, markets and distributes fresh, frozen, and value-added chicken and pork products, sports a Zacks Rank #1. PPC has a trailing four-quarter earnings surprise of 24.9%, on average.

The Zacks Consensus Estimate for Pilgrim's Pride's current financial-year EPS suggests growth of 19.7% from the year-ago reported number.

Flowers Foods, the producer and marketer of packaged bakery products, currently carries a Zacks Rank #2 (Buy). FLO has a trailing four-quarter earnings surprise of 9%, on average.

The Zacks Consensus Estimate for Flowers Foods' current financial-year sales and EPS suggests growth of 7.2% and 4%, respectively, from the year-ago reported figure.
Just Released: Zacks Top 10 Stocks for 2022
In addition to the investment ideas discussed above, would you like to know about our 10 top buy-and-hold tickers for the entirety of 2022?
Last year's 2021 Zacks Top 10 Stocks portfolio returned gains as high as +147.7%. Now a brand-new portfolio has been handpicked from over 4,000 companies covered by the Zacks Rank. Don't miss your chance to get in on these long-term buys
Access Zacks Top 10 Stocks for 2022 today >>
Want the latest recommendations from Zacks Investment Research? Today, you can download 7 Best Stocks for the Next 30 Days.
Click to get this free report
Flowers Foods, Inc. (FLO): Free Stock Analysis Report
Pilgrim's Pride Corporation (PPC): Free Stock Analysis Report
Inter Parfums, Inc. (IPAR): Free Stock Analysis Report
Nu Skin Enterprises, Inc. (NUS): Free Stock Analysis Report
To read this article on Zacks.com click here.
Zacks Investment Research