DXC & Microsoft Strengthen Deal for Digital Transformation
DXC Technology DXC recently announced that it is expanding its association with Microsoft MSFT by forming the global Microsoft Azure Digital Transformation Practice. The program will help clients shift their data and workloads to the Microsoft Azure public cloud more efficiently.

DXC Technology's Azure professionals and Microsoft's engineers will jointly take care of the development and marketing of products and services for Azure.

Notably, armed with more than 900 Azure professional certifications, 900 analytics clients and 8,000 analytics and AI professionals worldwide, DXC Technology plans to increase its global Azure certifications to 5,000 over the next three years.

Efforts in the Digital Space Paying Off

Organizations are constantly putting in more efforts to accelerate their cloud transformation journey and scale their digital strategies. In this process, demand for cloud-related services is growing remarkably. Notably, both DXC and Microsoft have prioritized clients' need to sustain in a cloud-first environment.

Per Gartner, the worldwide public cloud services market is expected to grow 17.5% year over year in 2019 to reach $214.3 billion. The research firm also noted that currently, almost 19% of cloud budgets is spent on cloud-related services, such as cloud consulting, implementation, migration and managed services. This percentage is expected to increase to 28% by 2022.

Significantly, DXC Technology continues to expand its digital transformation centers and capabilities as well as build on its collaborations with partners, namely Amazon's AMZN cloud division, AWS and Microsoft Azure.

In the last reported quarter, DXC's digital revenues jumped 22% year over year at constant currency, driven by growth in enterprise and cloud applications, cloud infrastructure and digital workplace offerings. The company steadily made strategic investments in digital assets and capabilities including increased hiring.

Moreover, with the acquisition of Luxoft, the company expects to boost its digital business further, particularly penetrating the key markets of Eastern Europe with workforce expansion in the zone.
DXC Technology Company. Revenue (TTM)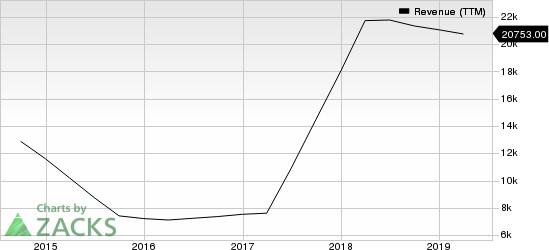 DXC Technology Company. revenue-ttm | DXC Technology Company. Quote
Growing Cloud Partnerships Intensify Competition

With the onset of digital transformation across most industries, IT services firms are vying for partnerships to boost their relevance.

Earlier this year, Infosys INFY announced that it is teaming up with Hewlett Packard Enterprise for using the latter's GreenLake consumption model to aid clients' journey to hybrid cloud. Again in June, Sabre entered into a long-term contract with Microsoft as part of its strategy to move the services of the former to the cloud.

Notably, partnerships are helping competitors add stimulus to their capabilities in the cloud services market and ramp up their competitive presence. However, with a solid digital services segment and focus on forging strategic partnerships, DXC Technology is likely to fortify its presence in the cloud computing space and garner additional revenues.

DXC Technology currently carries a Zacks Rank #5 (Strong Sell).

You can see the complete list of today's Zacks #1 Rank (Strong Buy) stocks here.

Radical New Technology Creates $12.3 Trillion Opportunity

Imagine buying Microsoft stock in the early days of personal computers… or Motorola after it released the world's first cell phone. These technologies changed our lives and created massive profits for investors.

Today, we're on the brink of the next quantum leap in technology. 7 innovative companies are leading this "4th Industrial Revolution" - and early investors stand to earn the biggest profits.

See the 7 breakthrough stocks now>>
Want the latest recommendations from Zacks Investment Research? Today, you can download 7 Best Stocks for the Next 30 Days.
Click to get this free report
Amazon.com, Inc. (AMZN): Free Stock Analysis Report
Infosys Limited (INFY): Free Stock Analysis Report
Microsoft Corporation (MSFT): Free Stock Analysis Report
DXC Technology Company. (DXC): Free Stock Analysis Report
To read this article on Zacks.com click here.
Zacks Investment Research