Watts Water (WTS) Installs AquaTowers in 2 Schools in India
Watts Water Technologies, Inc. WTS recently announced that it has funded and helped install two water filtration systems in India to provide clean drinking water to underprivileged members of the rural community.

Markedly, along with Planet Water Foundation — a U.S.-based non-profit organization that works to bring clean water to the world's most impoverished communities — four Watts Water's employees have built 'AquaTowers' in two schools in the Thane-Palghar district of Maharashtra. Notably, Watts Water first partnered with Planet Water in 2016. Since then, they have brought clean water to 13,000 people in Cambodia, China, Colombia, India, Indonesia, the Philippines and Puerto Rico.

Watts Water's employees from its Shanghai, China, Dubai, United Arab Emirates, and Auckland, New Zealand offices helped install the towers that remove bacteria and viruses, while providing 1,000 people with 10,000 liters of clean water on a daily basis. The noble initiative was part of Planet Water's 'Project 24', where its corporate partners annually build towers in rural communities on World Water Day on Mar 22.

As a global leader in water technologies, Watts Water is committed to improving access to safe water. It is proud to volunteer in India where there is huge demand for washing, cleaning and cooking/drinking water, particularly in rural regions. The company plans to fund two additional AquaTowers later in 2019 in partnership with Planet Water.

Furthermore, the company is focused on bolstering growth through new product development, geographic expansion and key account management. These initiatives are expected to be conducive to top-line growth and margin expansion in 2019. Watts Water's operating margin expansion will likely be driven by higher volume and productivity increment efforts. The company continues to reinvest a portion of the productivity savings in selling and marketing, R&D and IT systems to fund future growth. It believes Asia-Pacific segment's margin will expand on the back of higher volume.

Notably, Watts Water consistently looks for strategic opportunities to invest in new products and markets or divest existing product lines. It also remains focused on maintaining stringent quality control and testing procedures at each manufacturing facilities.

Watts Water is seeking to accelerate organic growth, drive margin expansion and reinvest in future growth and productivity initiatives. The company aims to launch smart and connected product strategy in 2019, which is likely to provide it with further differentiation in the marketplace. In addition, Watts Water is committed to enhancing shareholder value and executing its balanced cash allocation strategy while following its long-term strategy of growing business organically and through acquisitions.

Driven by diligent execution of operational strategies, the stock has rallied 20.6% on an average compared with the industry's rise of 13.8% in the past three months.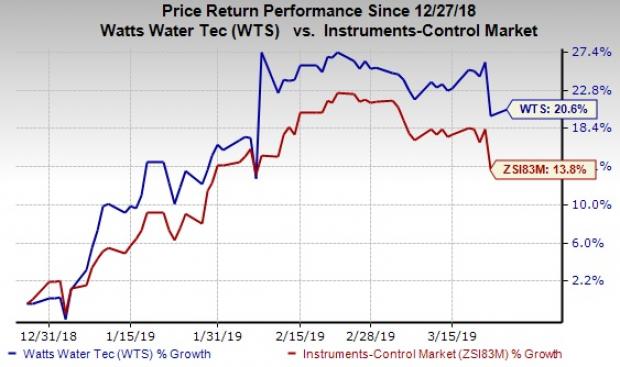 Currently, Watts Water has a Zacks Rank #3 (Hold). A few better-ranked stocks in the broader industry are Woodward, Inc. WWD, Harris Corporation HRS and Motorola Solutions, Inc. MSI, each carrying a Zacks Rank #2 (Buy). You can see the complete list of today's Zacks #1 Rank (Strong Buy) stocks here.

Woodward has a long-term earnings growth expectation of 12.9%.

Harris has a long-term earnings growth expectation of 8%.

Motorola has a long-term earnings growth expectation of 8%.

Is Your Investment Advisor Fumbling Your Financial Future?

See how you can more effectively safeguard your retirement with a new Special Report, "4 Warning Signs Your Investment Advisor Might Be Sabotaging Your Financial Future."

Click to get it free >>
Want the latest recommendations from Zacks Investment Research? Today, you can download 7 Best Stocks for the Next 30 Days.
Click to get this free report
Motorola Solutions, Inc. (MSI): Free Stock Analysis Report
Harris Corporation (HRS): Free Stock Analysis Report
Watts Water Technologies, Inc. (WTS): Free Stock Analysis Report
Woodward, Inc. (WWD): Free Stock Analysis Report
To read this article on Zacks.com click here.
Zacks Investment Research